Torque motors RKI
RKI torque motors are slotted, high-performance internal rotors. The internal design was completely revised for this series. While the rotor is still a homogenous steel element in the RI drive, for the RKI series it consists of one assembly whose core forms a laminated magnet carrier.
The eddy current losses can thus be reduced to a minimum. The rotor is heated up less and is no longer the limiting factor for the performance of the motor. This is why considerably higher speeds are possible. In addition, the permanent magnets in the rotor are arranged such that the magnetic flux is maximised. The innovative design and the bundling of the magnetic field linked to it makes higher torques possible. The energy efficiency is improved and the operating costs are reduced significantly owing to less cooling.
A variation in the magnetic material means that it is possible to offer motors with an optimised cost-benefit ratio.
RKI (internal rotor) motors are offered:
with 7 fixed diameters from 230 to 1030 mm outer diameter
with stators at different heights in 25 mm steps
with 2 standard windings for high torque and high speeds
with 3 magnet versions R10 (high speed or Eco version), R12 (moderate speed and torque), R22 (high torque, maximum torque density in the installation space)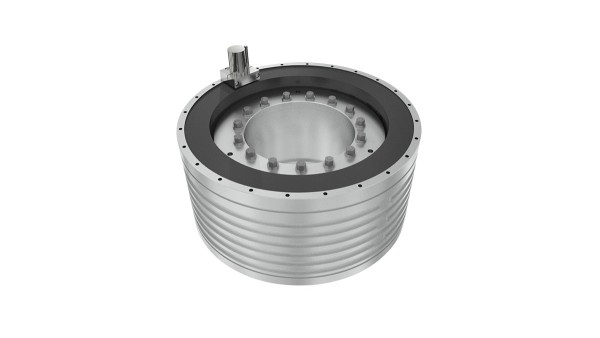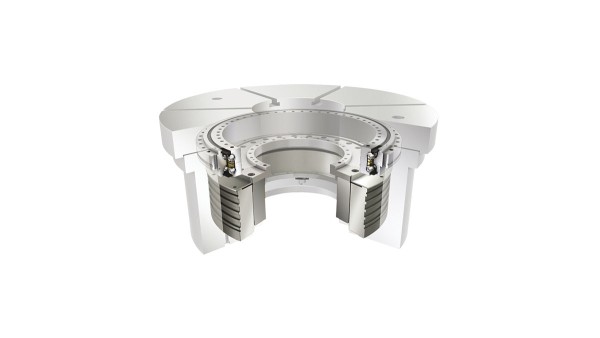 Benefits:
In comparison to RI internal rotor standard motors, you can achieve
+30% more torque (when using magnetic material of the highest quality class)
+400% more speed
+400% more mechanical performance
-40% less heat loss depending on the motor optimisation.
Applications:
In the rotary tables industry and fast rotating rotary axes, in swivel axes, in workpiece spindles, automation technology, printing and packaging machinery, presses, as the CNC axis in machine tools, high-precision positioning applications