Sensor-Connector-Box
Sensor-Connector-Box (short: SECOBOX) is used to combine all signals of IDAM direct drives.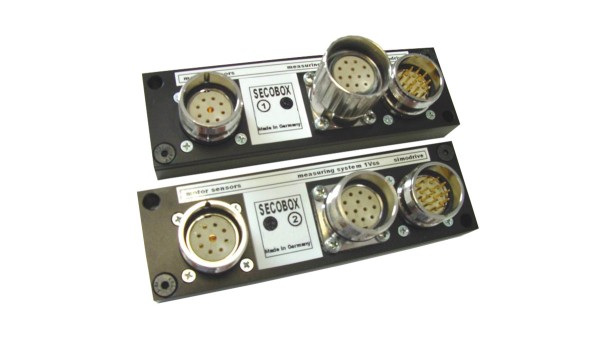 In the primary part of motor sinusoidal voltage signals "C and D" are generated by two sensors. These signals may be adjusted in the box by gain and offset to built voltage variation signals with 1 Vpp.
The sensors are protected by overvoltage and incorrect polarity of supply voltage. The signals of measuring system (1 Vpp) and temperature sensor (KTY xx) pass the SECOBOX on their way to the inverter.
Technical data:
Input interfaces: analogue signals for measuring system 1 Vpp
Output interfaces: analogue signals 1 Vpp, to inverter
Supply voltage: 5 V ± 5% in the SECOBOX
Current consumption: ≤ 50 mA
Range of operating temperature: 0 °C ... +50 °C
Range of storage temperature: -20 °C ... +70 °C
Weight: 220 g
Protection class: IP 00