Interpolator
Interpolator IP0550-U3 is used to digitize sinusoidal differential voltage signals (1VPP) from incremental encoders. It's especially designed for application in high dynamic linear and rotary drives. Features are the high interpolation factors, the accuracy and its tiny size.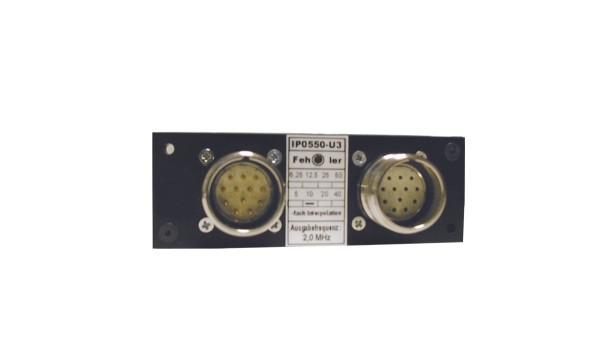 Counter signals are produced and transmitted as the square-wave pulses A and B, phase-shifted by 90° electrical. A reference pulse RI will be generated if a reference mark is featured by the encoder. The output signals are supplied as standard interface TIA/EIA-422-B to the higher-level electronics.
The continuity of the counter signals and the interpolation accuracy mainly depends on the analogue input voltages. Errors of the phase, or amplitude, and any electrical interference can seriously affect the output function.
A monitoring of some important internal signals is possible by using a special connector.
The maximum input frequency of the analog track signals (fin) and the maximum output frequency of the counter (A/B signals; fout) are determined by the frequency of the oscillator (fosc).
Technical data:
Input interface: analogue signals 1 Vpp, via a 12-pole male connector
Output interface: digital signals (counter impulses) RS 422, via 12-pole female connector
Interpolation factor: selectable 05 ... 50-fold
Supply voltage: 5 V ± 5% at the interpolator (take care with length and cross-section of cable to the succeeding electronic equipment)
Current consumption: ≤ 250 mA
Operating temperature range: 0 °C ... +50 °C
Storage temperature range: -20 °C ... +70 °C
Weight: 140 g
Protection class: IP 00